Call for an appointment.
(517) 990-9088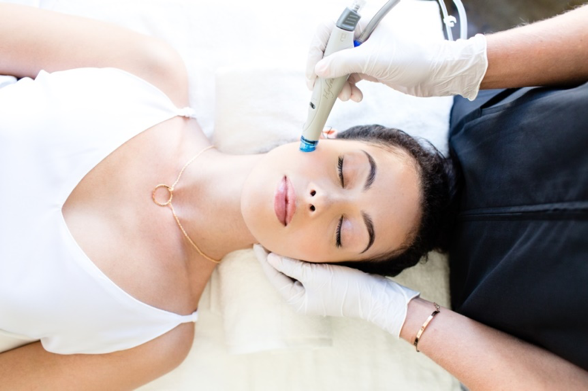 Brighten your complexion and nourish your skin with this non-invasive, multi-step treatment that combines the benefits of next-level hydro-dermabrasion, a chemical peel, automated painless extractions, and a special delivery of super serums filled with antioxidants, hyaluronic acid, and peptides.  HydraFacial does all of this in one quick treatment that delivers real results without downtime or irritation. If you are concerned with aging, uneven skin tone, fine lines & wrinkles, rosacea, acne or large pores this is designed just for you! It leaves your skin with a radiant glow!
Platinum HydraFacial MD
The Ultimate HydraFacial experience! Begin the detoxification process with lymphatic drainage. Then, the HydraFacial deeply cleanses, exfoliates, extract and hydrates the skin while addressing your specific skin concern with a Booster of your choice (Regen GF, Brightalive or Roszatrol). Enjoy a relaxing upper body massage and customized hydrojelly mask. This treatment is concluded with LED Light Therapy to further reduce the visible signs of aging, redness or acne.
90 min. $345
Signature Hydrafacial MD
This powerhouse HydraFacial includes all the essentials of the HydraFacial paired with Dermaplane to give your skin the benefits of a deep exfoliation and removal of vellus hair. This treatment is tailored to your specific skin concerns with a customized booster of CTFG, Brightalive or Rozatrol and an advanced peel. We utilized Red or Blue LED light to further enhance your results and target aging, acne or inflammation. This innovative results-oriented treatment will leave you with bright and beautiful skin!
60 min. $299
Spa HydraFacial MD
An invigorating treatment that includes all of the essentials of the HydraFacial while incorporating a customized Hydrojelly mask and LED light. Enjoy an upper body and hand massage that gives you a complete spa experience.
60 min. $255
Express HydraFacial MD
Deeply Cleanse, exfoliate, extract and hydrate the skin through our super serums filled with antioxidants peptides and hyaluronic acid. This treatment includes the four essential steps of the HydraFacial that gives your skin a beautiful glow!
30 min. $189
*Discontinue all retinol products at least 7 days before the service. Your skin cannot be sunburned at the time of your service. You cannot receive a HydraFacial if you are pregnant , breastfeeding or if you have a cold sore break out. You may not receive a Hydrafacial if you have had botox or fillers within 2 weeks prior to your appointment. 
All Boosters include a complementary LED treatment. ($49 value)

BrightAlive
Designed to brighten skin tone and reduce the appearance of discoloration for an instant glow, using ZO Skin Health's special skin brightening complex to help block the production of pigment.
$79
Britenol Complex
HydraFacial MD Britenol treatment features the proprietary Britenol Complex, developed to rapidly and effectively diminish the appearance of brown spots, sun spots & hyperpigmentation.
$79
Rozatrol
Designed to reduce inflammation, diminish skin redness, and promote healthy microcirculation to aid in the reduction of symptoms associated with mild to severe rosacea using ZO Skin Health's multi-redness complex.
$79
Regen GF
HydraFacial MD with Regen GF, developed using advanced growth factor technology to deliver firmer skin while diminishing the appearance of fine lines and wrinkles.  This non-invasive treatment enhancement for the face, neck, chest, and hands gives you immediate & long-term result to keep you looking your best all over.
$79
Celluma LED light therapy – $49
Lymphatic Drainage: $49
Dermaplaning – $49
Perk Lip Plump:$49
Perk eye firm: $49
Extended Extractions – $20 (Applies to any extractions beyond the t-zone)
Neck – $55
Neck and Décolleté – $130 Stand alone- $199
Higher Peels
Gly-sal 15% – $25
Gly-sal 30% – $25
Face Life, Face First with HydraFacial!
Call now for your appointment (517) 990-9088